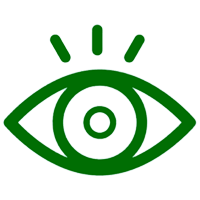 Vision
To be one of the top 10 outstanding pawnshops and financial solution providers.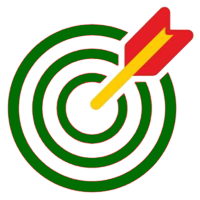 Mission
We provide superior quality products and service that will improve the lives of clients, our people, and our surrounding communities for them to feel and say "Palagay ang Loob Ko!"
E
Excellent Client Experience
Milestone
Raquel Pawnshop, Inc., today one of the most trusted and friendly names in the pawnshop business, has become almost a landmark in its birthplace, Lucena City in the Southern Tagalog region.From there it has spread its branches, so to speak, all over Luzon, and is now taking root in the Visayas and Mindanao.
Indeed with a countrywide presence, and a tradition of friendly and multi-featured services, Raquel Pawnshop on its 25th year is still growing, making its presence felt where it is needed. But like most businesses, Raquel started small and even under unlikely circumstances. Shepherded and nurtured by its dynamic owners and industrious people, it has become what it now: a symbol of growth, service, and achievement, but able to look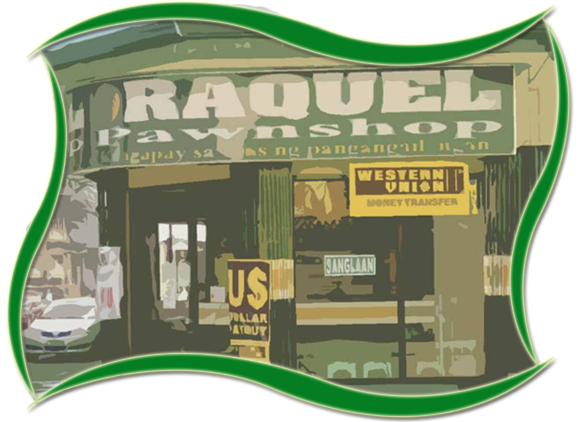 back where it began. The year 1986 saw the height of the Philippine financial crisis. The economy was unstable and businesses in general were facing an uncertain future. But the Raquel family saw it differently. They saw challenge rather than threat, and opportunity rather than obstacle. That's why they took risks in putting up new businesses. It was at this time they entered the pawning business.
As a family-owned company, Raquel Pawnshop was born during this year, and the first pawnshop rose in the heart of Lucena City, right where the family's original textile business began, on No. 129 Merchan Street, Lucena City. At first, the family's matriarch, Rosita L. Raquel, simply wanted her eldest daughter, Raquelita, or Mrs. Raquelita R. Rafa, to take part in the family's textile business. She is of course no other than whom we know as Kletchie. Yet in her heart, Raquelita wanted something new, a new line of business. It was the family's patriarch, Reynaldo Raquel himself, who first thought of the idea of putting up a pawnshop. And managing it was perfect for Kletchie. The Raquel couple's choice was right. Kletchie immediately buckled down to work. She was multi-tasking when the word was not yet invented: she was manager, appraiser, sales clerk, and maintenance personnel rolled into one. With a little prodding and guidance from her parents, and with her own patience and perseverance, Kletchie was able to make the pawnshop grow.
It did not take long before Kletchie's three other siblings were motivated to put up pawnshops of their own, which all carried the same name: Raquel Pawnshop. Pablito chose to put up his branch at No. 51 Zamora Street, Barangay 6, Lucena City. This became the second branch. Ronaldo set up his own at No. 142-A Merchan Street, Lucena City. This was the third branch. May Raquel, Mrs. Lacuesta, picked the address at Doña Tating St., Tiaong, Quezon, which became the fourth branch.
On the other hand, Mrs. Recilda Raquel Pontioso, and Ms. Rhoda L. Raquel also took part in the pawnshop business as acquired property department heads while still attached to the family's existing textile business. As the business continued to expand the Raquel family decided to incorporate itself. On November 5, 1993, Raquel Pawnshop, Inc. was born, when the business changed its status from sole proprietorship to corporation. With the blessings of their parents, the Raquel siblings took over. And it was at this point they showed their true mettle. Knowing that operating a corporation brought the business to a new level, the Raquel business siblings knew they needed to wield the right corporate tools. They wanted to plan well and execute well. They needed bold vision as well as control. They valued energy as much as wisdom. Envisioning itself to be the most progressive, innovative and customer-driven pawnshop company, Raquel did not intend to confine itself to the scope and limitations of business services specified under the Pawnshop Regulations Act.
As the company's mission, Raquel wanted ultimately to "contribute to the prosperity of our people and surrounding communities."
Where it was needed Raquel put up shop. From Lucena City it spread to nearby towns in Quezon Province, then in Laguna, and then in the Calabarzon Region. Picking up its phase, it went to Metro Manila. And then to its present distribution of branches in the country. On its yearly performance, and as the demand for its services increased, Raquel kept surpassing itself. In 2006 Raquel launched the "renew anywhere" service—the first automated and network based transaction ever in the pawnshop industry. In terms of customer satisfaction, it turned out to be one of Raquel's major achievements. From then on, other innovations and achievements followed.
Through its young years, Raquel Pawnshop Inc. added or introduced products and services, including:
• Pawning of Jewelries, Gadgets, Smart watches, and Luxury bags like Gucci, Prada, Chanel, and Louis Vuitton.
• Money Transfer (Western Union, Transfast, Cebuana Pera Padala (Domestic) and PeRaquel Express (company-owned remittance)
• Money Changer (selected branches).
• Accident Insurance Plan.
• Cash in and Cash out (BPI BanKo, Smart Padala, G-Cash, Pay maya).
• Bills Payment, E-Ticketing and E-Loading.
• Check Encashment (selected branches).
• ATM Cash Withdrawal (selected branches).
• Retailer Loading.

At the same time, progressive systems were implemented. Pawning matrices were created to provided reliable and efficient processing of transactions. For its employees, Raquel made available convenient salary payment through Automated Teller Machine.
For its visionary service and practices, Raquel Pawnshop Inc. has become highly regarded in the region's pawnshop business.
For example, from its money remittance partner, PetNet, Raquel has received many recognitions: Best in Automation (2009), Highest Outbound Transaction Growth for Large Scale Network (2008), Highest Inbound Transaction Growth for Large Scale Network (2008) and Highest Dollar Volume Growth for Large Scale Network (2008).
Beyond its scope of business, Raquel recognizes its responsibility to the community surrounding its branches and to society in general. Thus it undertakesv various corporate social responsibility projects, whether on its own initiative or in collaboration with other public or private organizations. Just recently, the Chamber of Pawnbrokers of the Philippines Inc. gave special citation to Raquel Pawnshop President Raquelita R. Rafa for her exceptional dedication to Corporate Social Responsibility. Over its 25 years in pursuit of its corporate vision, Raquel Pawnshop Inc. had earned recognition and distinction along the way that would make its owns and employees proud, its customers assured, and its competitors envious. Beginning 2005, Raquel embarked on manpower capability building and personnel skills improvement. It hired highly competent individuals, engaged consultants and business experts, and identified and developed employees with potentials for key management positions.
Committees and teams were also formed to identify, analyze and solve quality and work related problems in their areas. These include committees on Core Values, Code and Discipline, Customer Service Excellence, and and Corporate Social Responsibility among others. The company has also formed and strengthened various departments manned by individually strong key players. In order to maintain success and improve even more, the company implemented quality, customer service excellence and employees training programs. All employees were required to attend trainings and seminars for their needed skills and training. In 2007, to further support its build-up of personnel capabilities, the Raquel Training Academy (RTA) was created. RTA Lucena and Manila are the venues for pre-employment orientation, in-house trainings, seminars, and meetings. The Academy has since then provided quality trainings for the newly hired employees and upgraded the skills of existing ones through seminars and workshops. To strengthen Raquel's Customer Service Excellence, a series of seminars and workshops were given to all regular employees including employees at the branch and head office to sustain its impact. A Customer Service Excellence Award was also launched to give distinction to outstanding branches. One corporate value that Raquel seeks to maintain is how to give back and take care of its most precious asset—its people. At the same time, to give back to community that surrounds its business.
One way of giving back is employee's welfare. It is the company's obligation and pride to provide such employee benefits as: Retirement, Medical, Scholarship Grants, and Loyalty Awards. Recognizing that family is the most important factor why employees work, a source of their motivation and excellent performance, the company provides activities that usually involve family members. These are the Christmas party, and the annual summer outing for both regular and casual employees. For Raquel, responsibility to the community is another form of giving back. Collaborating with the government through the DSWD or with private organizations, Raquel has launched into programs that included: Livelihood for those who could not leave home to earn; feeding programs for elementary students; and even distributing school supplies as early Christmas presents. Raquel has also extended its help to the victims of the recent Typhoon Ondoy in collaboration with GMA 7 Kapuso Foundation and ABS-CBN Sagip Kapamilya.
One corporate tool that Raquel has quickly learned to wield is marketing communications, whether online or in the traditional media.
Being technically equipped and recognizing the importance of information technology, Raquel has launched its website to provide public access to information on its products and services. It also enables the company to gain previously unreached market. The website has also become an essential medium of communication among employees and between the company and job seekers. In the traditional media, Raquel has extensively used television, radio, and print advertising in the past to help push its marketing campaigns. Recently, Raquel Pawnshop Inc. has trained its sites on becoming a strong competitor, if not a contender for leadership in the pawnshop business, through aggressive brand communications, and a reinvigorated marketing and advertising campaign.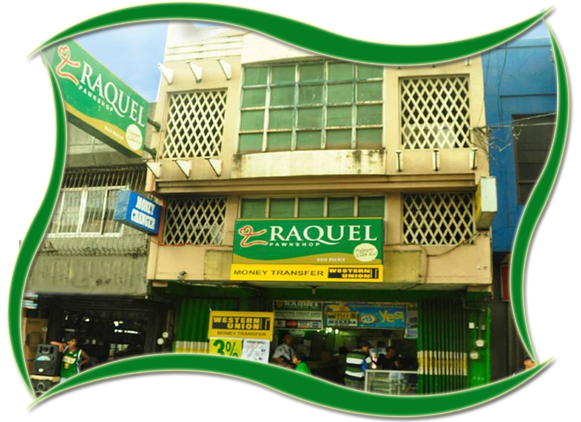 In time for its 25th anniversary, Raquel embarked on a massive re-branding effort: Revamping the corporate identity with a redesign of the company logo and implementing it on all branch signboards and renovations; Brainstorming and reformulating the corporate slogan to reflect its renewed confidence itself and its brand of service; and Commissioning a new corporate jingle or theme song expressing the company's new aggressive marketing stance but customer-friendly and homey brand personality: "Raquel Pawnshop Inc.: Palagay ang Loob Ko!".
Raquel at 25. From birth in a time of challenges to its rebirth in progress. From simple hard work to envisioning the future. Now moving into the next step in competitiveness, and even gunning for leadership. Wielding its corporate tools firmly, Raquel has been consistent in maintaining its core values and incorporating them into its best practices.
Thus it has been able to deliver reasonable returns to its owners and stakeholders, to stimulate and reward employee contributions and achievement, and ultimately, satisfy customer needs. Marking its 25th year, Raquel looks forward to becoming "your pawnshop of choice." More and more that has become a realizable vision because Raquel has been known to put its heart where its mouth is. From the top of the company down to the frontline employee, Raquel Pawnshop Inc. is hard at work in making the customer in the pawnshop, and the community at large, simply feel at home. And to be able to say with trust and confidence, Palagay ang Loob Ko!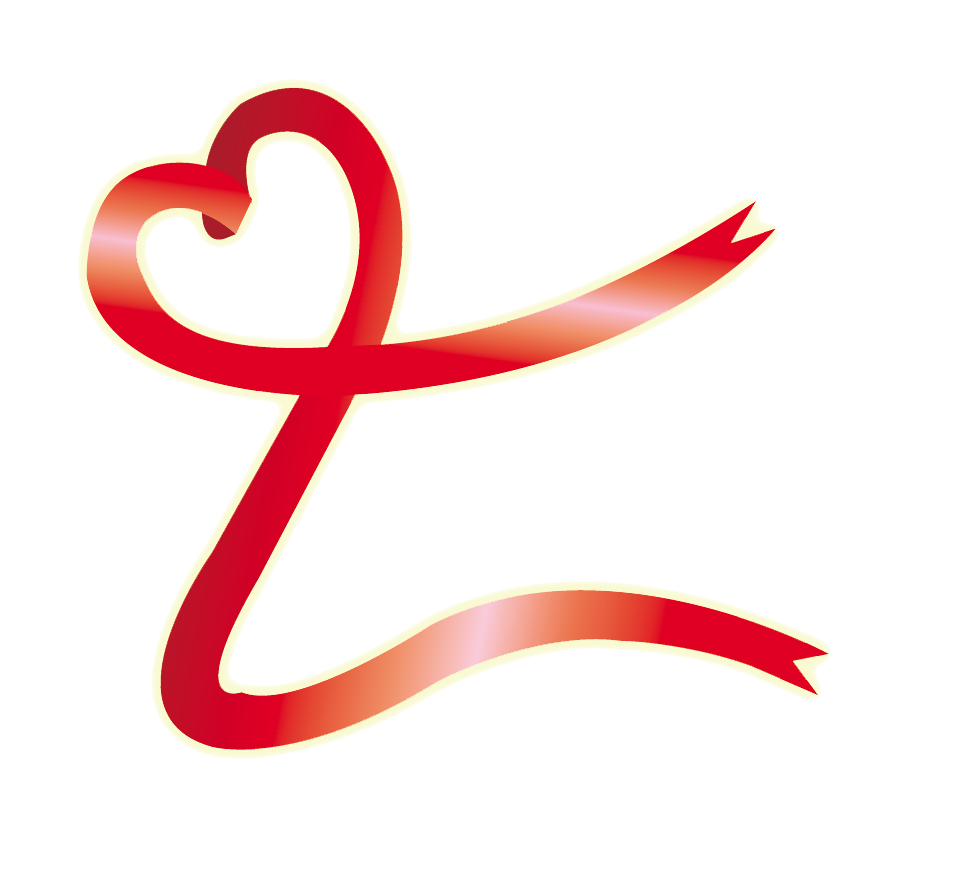 Corporate Sysmbol
Our logo or corporate symbol was derived from the ancient Philippine syllabary, Baybayin, specifically from the syllable "Ra." The syllable is rendered as a ribbon that loops with the added shape of a heart at the upper left corner. The resulting general shape is that of a mother and child in an embrace, representative of the company's vision to always stand ready to help its customers and for them to say "Palagay ang Loob Ko," or "I put my trust [in Raquel.]"
Awards
Over 35 years Raquel Pawnshop has earned numerous distinctions and awards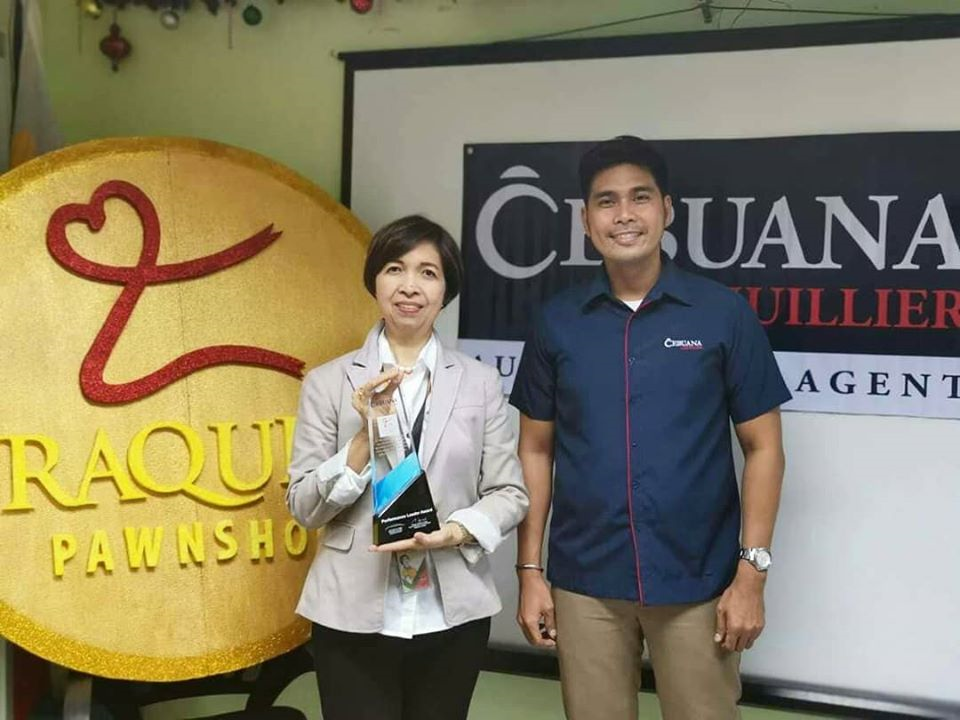 ---
2019 Cebuana Lhuillier Leader Award for Corporate Remittance Agent (Sending Category)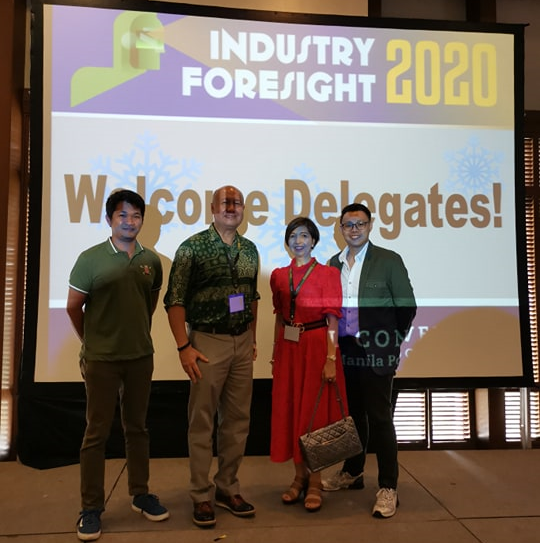 ---
2019 Chamber of Pawnbrokers of the Philippines, Inc. Loyalty Award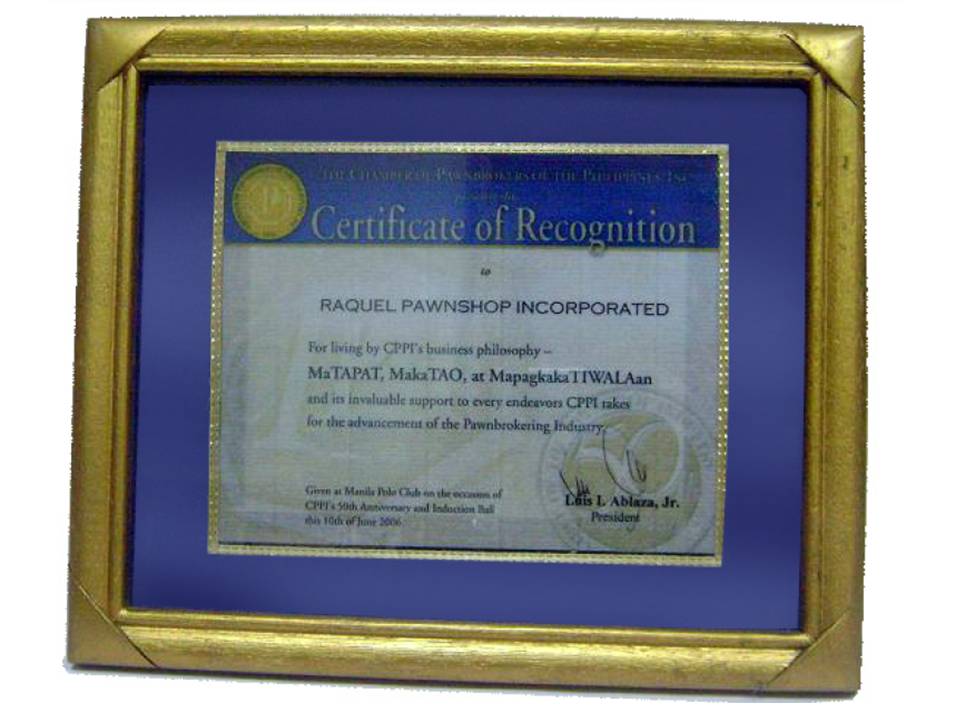 ---
2006 CPPI's business philosopy Matapat, Makatao, at Mapagkakatiwalaan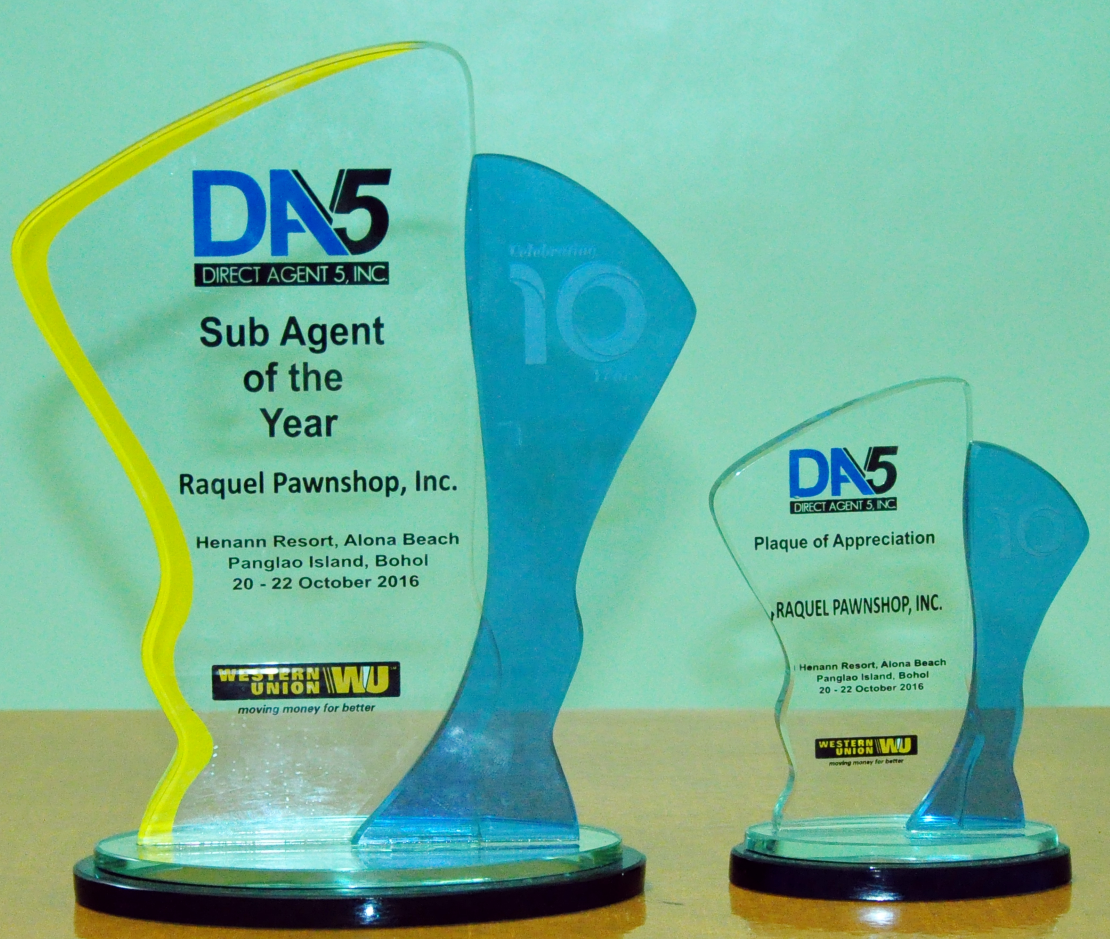 ---
2016 DA5 Sub Agent of the Year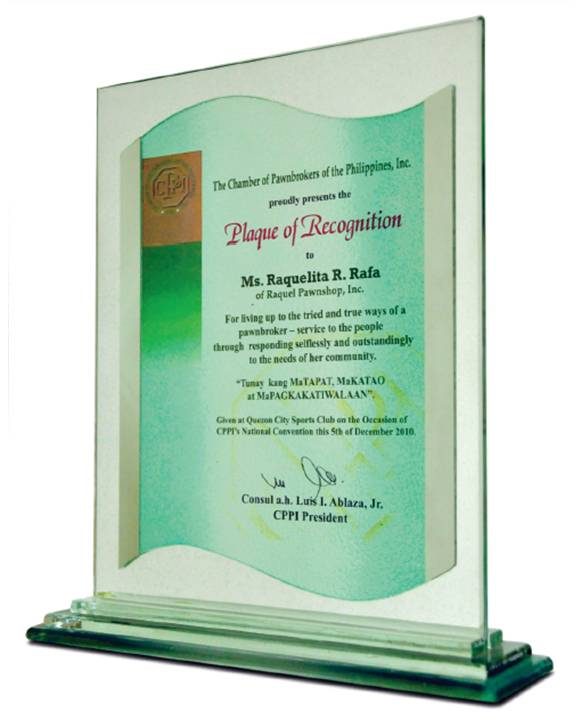 ---
2010 CPPI Special Citation for Exceptional Dedication to Corporate Social Responsibility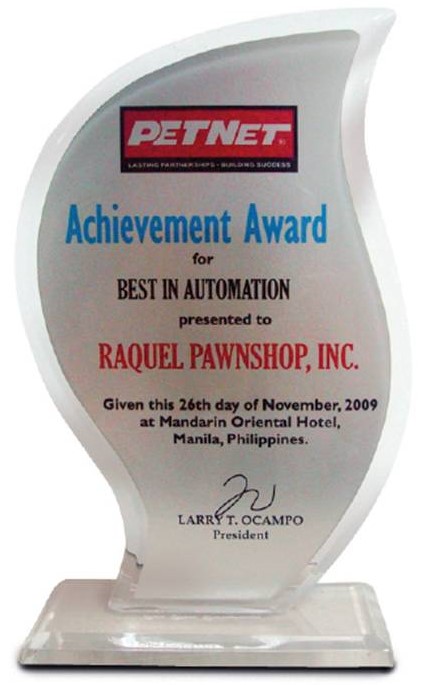 ---
2009 PETNET Best in Automation Award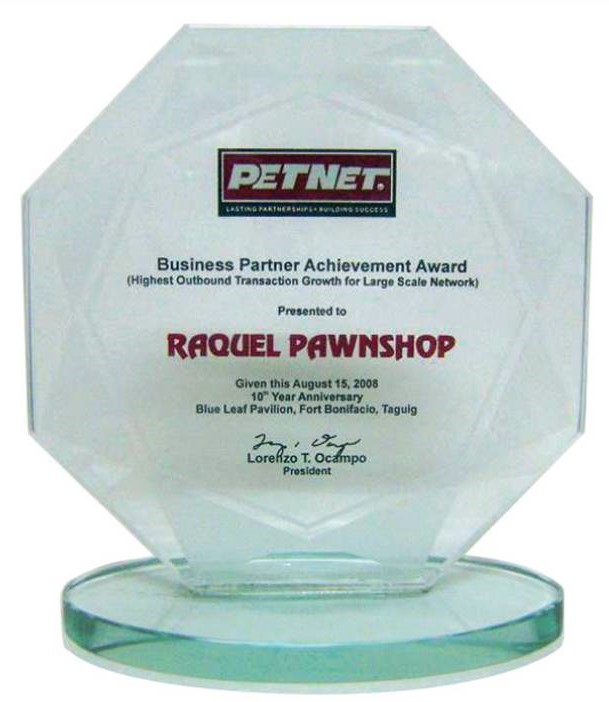 ---
2008 PETNET Highest Outbound Transaction Growth for Large Scale Network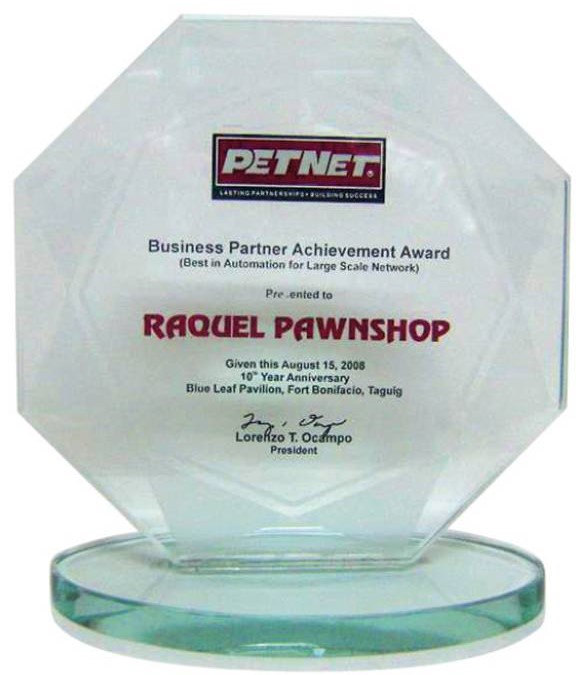 ---
2008 PETNET Best in Automation for Large Scale Network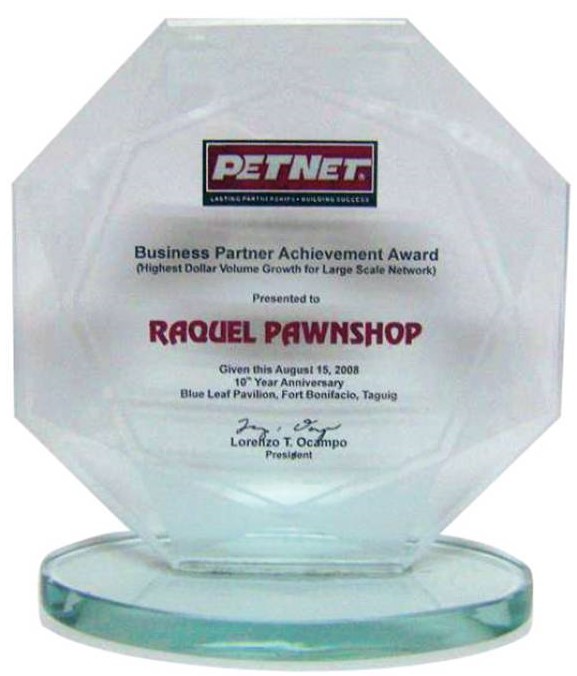 ---
2008 PETNET Highest Dollar Volume Growth for Large Scale Network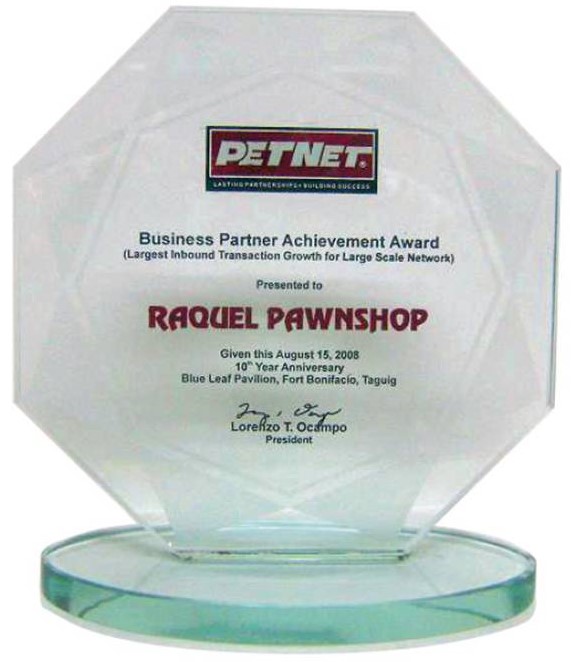 ---
2008 PETNET Largets Inbound Transaction Growth for Large Scale Network